Sealing Machine –
Protection against spillage

Die einfach und schnell zu bedienende Thermo-Siegelmaschine ist das ideale Zubehör zur Optimierung der Speisen-Verteilsysteme. Mit ihr lassen sich Einweg -GN-Einsätze oder Menüschalen mit entsprechender Siegelfolie auslaufsicher verschließen. Die so verpackten Speisen sind zum Beispiel zur Regenerierung in Temp-Classic bestens geeignet.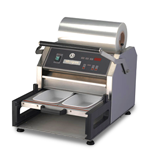 The easy-to-use heat-sealing machine does its work fast, and is a useful addition to any meal-distribution system. It will enable you to cover disposable GN containers or dishes with a sheet of plastic film that is sealed on and therefore spill-proof. Food in containers that have been sealed with this film covering can be conveniently regenerated in a Temp-Classic trolley.