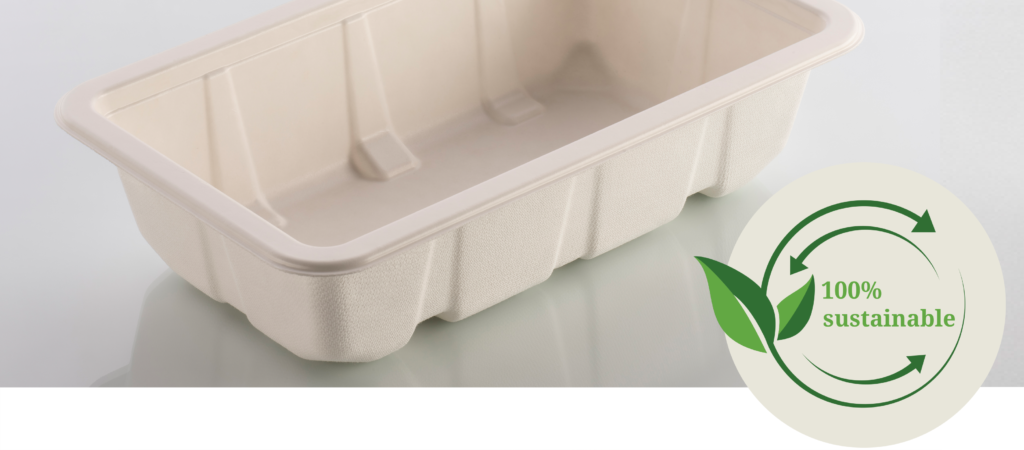 Natu-Rite –
Our sustainability concept: Using raw materials that are fast-growing, easily renewable and fully biodegradable.
serving hot and cold meals
With our new Natu-Rite product range, we are extending the reach of our sustainability efforts. If reusable menu trays are a non-starter for reasons of hygiene and logistics, the food-distribution process used should at least be based on the use of materials that can be sustainably grown and efficiently recycled. And that is exactly the case with Natu-Rite.
Efficiency and sustainability
In operations involving the portioning of food delivered in multi-portion containers, disposable Gastronorm menu trays are, for logistical reasons, quite often a better choice than reusable systems.
Our new Natu-Rite menu trays are made of fast-growing, easily renewable raw materials that are 100% biodegradable. They could be a central part of a more sustainable meal-distribution system.
Our Natu-Rite trays are made of sugar-cane fibre and offer the following advantages:
Manufactured from fast-growing raw materials
100% biodegradable (as defined in DIN EN 13432)
Plastic-free packaging
50% less CO2 is emitted in the manufacture of Natu-Rite trays than in the manufacture of comparable trays made of conventional plastics
Available as ½- or ¼-sized Gastronorm trays
Thanks to their biolaminated construction, the trays are able to hold soft, runny and liquid foods.
Suitable for use in Cook & Chill and also in Cook & Freeze* operations
You can continue to use your existing sealing machines; all you will need is a set of new sealing frames.
Our entirely natural packaging concept is topped off with sustainable, eco-friendly sealing film

*Please check in advance that our Natu-Rite trays are suitable for your particular type of Cook & Freeze operation.