A benefit for patients and nursing staff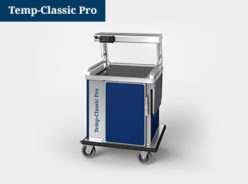 Dresden-based catering company Dussmann Service set a meal-distribution revolution in motion when it started using temp-rite products at the hospital in Dresden-Friedrichstadt. It has introduced what it calls a 'rolling restaurant', a meal-service method that allows patients to decide for themselves what kind of food, and how much of it, they want to eat. What's more, the diners can make their choices just before they eat, since the meals are served on a buffet trolley. Choosing a menu a day in advance is therefore no longer necessary. This is not only an attractive option for the patients, it also reduces the amount of work for hospital nursing staff.
Volker Rattmann, head of the Dussmann catering service, explains the new concept as follows: First, the meal components, both warm and cold, are prepared in the hospital's own kitchen. The warm meal components are regenerated and portioned by the service hostesses who serve the dishes to the patients. All meal components – and the meal in question could be breakfast, lunch or dinner – are brought to the ward and presented "buffet style" on a trolley. During the lunch service, Temp-Classic trolleys in either the XS or M size are used.
There is one service hostess working in each ward. She is responsible for the smooth delivery of the meals. According to Mr. Rattmann, each hostess needs between 30 and 50 minutes to serve up to 35 patients in a given ward. The exact time depends on the mobility and independence of the individual patients.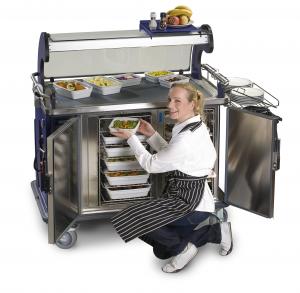 In the opinion of Krystian Koerner, head of the Central Hospital Services logistics department in Dresden-Friedrichstadt, meal distribution has gained significantly in quality through the introduction of the temp-rite systems. Patients have given very positive feedback, saying that they are impressed by the high-quality service, which reminds them of a hotel even though they are in a hospital. Thanks to the service hostesses, the nursing staff are now able to focus on patient care, because they no longer have to deal with meal distribution, which is not one of their core tasks.
The efficiency of temp-rite's meal distribution systems has also impressed the staff of the hospital in Dresden-Friedrichstadt. Food no longer has to be thrown away. Patients can individually determine the amount of food they want, which has reduced wastage. Additionally, there are savings on energy and purchasing. And it is also possible for members of the service team to help each other out if there are minor problems during the distribution of meals in the wards.
The staff who supervise food service and the catering staff in Dresden-Friedrichstadt are confident that their individualized meal-distribution concepts have not only raised standards of quality and efficiency, but are also sustainable in the long-term. And they are convinced that these concepts could be adopted by other institutions.
Further information is available from:
temp-rite International GmbH
Postfach 45 02 65, 28207 Bremen
Theodor-Barth-Str. 29, 28307 Bremen
Tel.: 0421/48 69 20, Fax: 0421/48 69 228
E-Mail: info@temp-rite.de