Centralized meal distribution at the Reuterstraße Rehabilitation Centre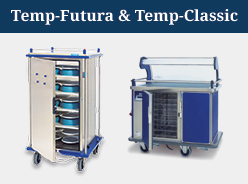 The trend in food preparation in hospitals and other comparable institutions has been moving more and more towards cooking in central kitchens.
Renovating old hospital kitchens has proven to be an unprofitable alternative for the majority of care providers. For this reason, preparing meals at a central point and then delivering the food to the locations where it will be consumed is nowadays a much more commonly used approach. As a consequence, the importance of meal transportation and distribution is continuously increasing.
What institutions are striving for is to make sure that all patients are served food that is healthy, tastes fine, and is also appealing at a visual level. So the Reuterstraße Geriatric Rehabilitation Centre in Bergisch Gladbach recently decided to introduce the cook-and-chill method of meal preparation. As the Rehab Centre is a part of the Marien-Krankenhaus, the provision of meals is the responsibility of the Marienburg Service Gesellschaft.
There are 72 inpatients in the Rehab Centre, and they are all provided with regular meals. After having done several tests, the Marienburg Service Gesellschaft decided that the Temp Futura System by temp-rite best matched the Rehab Centre's food-regeneration needs.
Warm and cold meal components are placed on the system trays. Cut-outs in the tray allow the plate and the heating element in the system cart to come into direct contact with each other. Meals that have to be heated up are put on plates covered with a dome fitted with a magnetic ring. The system knows that meal components covered with domes have to be heated individually while the temperature of the other components on the tray remains unchanged. The heating temperature is regulated by means of a device that measures the temperature on the surface of the plate. Once the desired temperature is reached, the heating element is switched off. If the temperature falls below a certain level, the heating element is automatically switched on again.


The 15 outpatients attending the Day Hospital also have to be properly fed. Bulk food containers are used together with the Temp-Classic system for this operation. The food is regenerated by means of circulating air in a regeneration compartment activated by an automatic timer. The energy required for this is utilized very efficiently and delivers hot air to all parts of the Gastronorm food container. After the food is reheated, it is distributed to the patients on buffet carts:
Further information is available from:
temp-rite International GmbH
Postfach 45 02 65, 28207 Bremen
Theodor-Barth-Str. 29, 28307 Bremen
Tel.: 0421/48 69 20, Fax: 0421/48 69 228
E-Mail: info@temp-rite.de