Actively cooled or heated Thermo-Transport trolleys
In addition to our range of actively cooled or heated Thermo-Transport trolleys, we also have a wide range of combi units for the distribution of hot and cold meals (though not at the same time).
Our Thermo-Transport trolleys have a number of special features, including: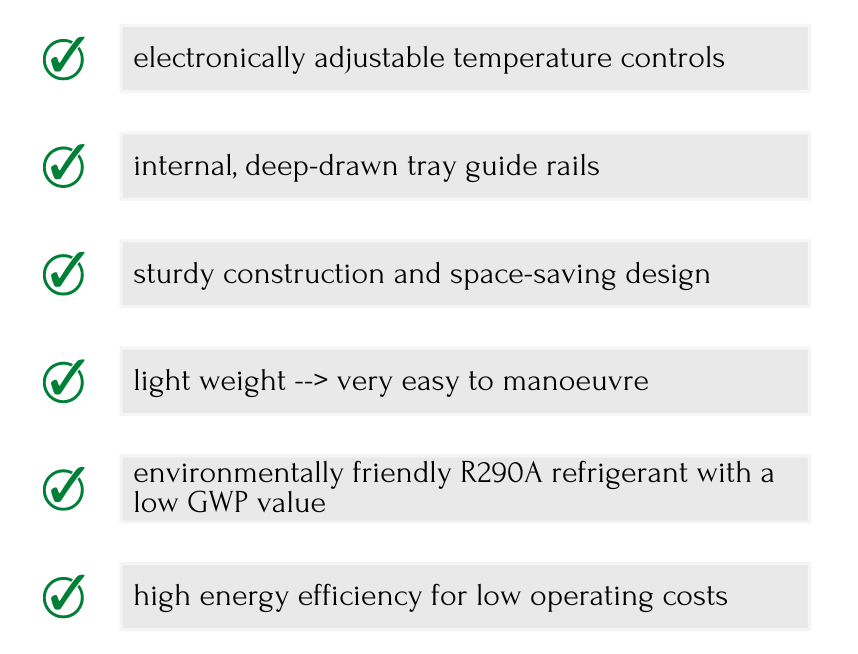 A uniform temperature is achieved throughout the interiors of the heated trolleys by means of an efficient convection heating system. The airflow creates a thermal cushion at each meal level, and this compensates temperature losses. A digital control unit provides a read-out of the meal temperatures optimized in this way.
The refrigerated versions of the Thermo-Transport trolleys have compressor cooling systems that use the new, environmentally friendly R290A refrigerant. These trolleys also feature a new speed-controlled fan whose rate of rotation can be regulated so as to halve the sound level. This makes for a pleasanter working environment.
All Thermo-Transport trolley interiors are fitted with pressed stainless-steel guide rails for easy cleaning, and to ensure high standards of hygiene.
The doors open through 270° and are held in the open position by a magnet. The ergonomically designed handles make manoeuvring the trolley safe and easy.
Polyurethane has been used as the main heat-insulating material. And the weight saving achieved through the use of this light yet efficient insulating material increases the ease of handling and stability of the trolleys.
All Thermo-Transport trolleys have on their top side an all-round galley rail made of stainless-steel tubing. A stainless-steel surround bumper encased in rubber and located just above the wheels provides protection against knocks and impacts. All Thermo-Transport trolleys have two fixed and two swivel wheels, with each wheel measuring 160 mm in diameter. The swivel wheels are fitted with immobilizers.