Temp-Futura –
our hot tip for state-of-the-art meal distribution


Suitable for Cook-Serve, Cook-Chill/Cook-Freeze
Temp-Futura is a Cook-Chill system that will regenerate – or chill – your meals on its own. Its Integrated Thermo Control (ITC) heating pods will bring the meal components that have to be regenerated to the desired temperature without altering the quality or consistency of the food. With your choice of plate cover, you decide whether the meal on the plate is to be regenerated or is to remain cold.
Temp-Futura carts are available in different versions that can be adapted exactly to your requirements. Meals can be regenerated centrally in a kitchen, or decentral at the dining location – e.g. in a hospital ward or a cafeteria. Get in touch with us. We'll help you find the solution that's best for you.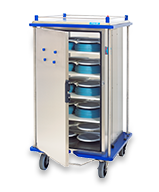 TR400 Carts
Temp-Futura carts are for meal-distribution and regeneration, and for keeping food hot. The stainless steel cart casing is double-walled and insulated. Various optional extras are available, such as a towing attachment, and a galley rail. The carts are available in 2 basic sizes: one for Gastro-Norm (GN) trays, and one for Euro-Norm (EN) trays. Each set of glider rails (i.e. each tray rack) can be fitted with up to 3 ITC (Integrated Thermo Control) heating pods.