Serve-Rite –
Present cold meals attractively!

Suitable for Cook-Serve
Serve-Rite is a new series of buffet carts. Whether you're serving bread-based meals, snacks or just coffee, you'll find there's a Serve-Rite cart that meets your needs, and looks the part as well.
Each cart is built around a sturdy frame with ergonomically shaped tubular push bars, and is protected by a wrap-around bumper. The cart interior consists of drawer compartments dimensioned to accept GN 1/1 inserts (or subdivisions of these). The space in these compartments can be divided up in whatever way is appropriate for the task in hand. Active, mains-independent cooling of one of the drawer compartments is available as an optional extra. Each cart is supplied with a folding worktop and a rubbish-bag holder.
Serve-Rite carts have outer claddings in attractive colours. They are fitted with 2 fixed wheels and 4 braked swivel wheels. The wheels all measure 160 mm in Ø, run silently, and are easily manoeuvrable. However, a motorized drive powered by a rechargeable battery is available as an added extra.
Serve-Rite S
Serve-Rite S was specially developed for the service of snacks in offices, at conferences, at events or during trade fairs / exhibitions. It comes with black cladding has a special display gantry for snacks in GN 1/1 size. The 4 drawers in GN 1/1 size, each measuring 100 mm in height, are fitted with battery-operated cooling units. A folding shelf and a garbage-bag flap are provided on the narrow sides of the cart. The work surface has a holder for tablet PCs.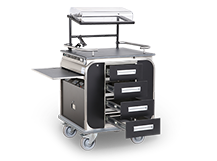 Serve-Rite M
As regards functions and options, the compact Serve-Rite M is comparable with the Serve-Rite L. It has two drawer stacks, and sufficient capacity for assorted breakfast components for some 20 diners. The Serve-Rite M is also ideal for transporting and serving snacks (or in-between meals) complete with coffee.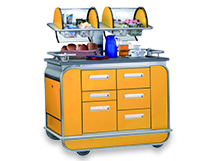 Serve-Rite L
This bread-buffet cart has three drawer stacks, each of which can be configured in many different ways. The left-hand stack can be optionally provided with a battery-powered active cooling system. The Serve-Rite L will hold assorted breakfast components for some 35 diners.